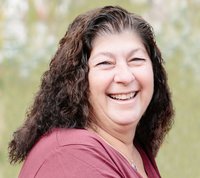 Anna Mezzina
On Thursday, January 10, 2019, Anna (née Cedola) Mezzina - loving wife, mother, and grandmother - passed away peacefully at her home at the age of 55.
Anna was born on January 26, 1963 to Carolyn (née Marfino) and Pasquale Cedola, Jr.
A lifelong resident of Lyndhurst, NJ, Anna was a longtime contributor to the community. On October 27, 1984, she married Francis Mezzina, Jr. They raised two daughters, Juliann and Stefanie, and a son, Frank. She worked tirelessly in the Town of Lyndhurst as a classroom and secretarial aide for the Board of Education and as the Director of Before and Aftercare Program. Anna's children were her purpose, and she devoted her life to volunteering on their behalf. She was a dedicated member of the Roosevelt School PTA, Lyndhurst High School Band Association, and various sports programs. Along with adoring her family and friends, Anna was known for her passion for the beach and loved being down the shore with them any chance she could get.
Anna was preceded in death by her grandparents, Caroline (née Adamo) and Richard Marfino and Anna (née San Filippo) and Pasquale Cedola, Sr.
She is survived by her beloved husband, Francis, Jr., her children, Juliann and husband Joseph Sedlock, Stefanie, and Frank; and her grandchildren Michael and Angelina. She also leaves her sisters Linda and husband Rick Doren, Caroline and husband Anthony Sciancalepore; as well as nieces Natalie Doren, Sofia Sciancalepore, Marina Sciancalepore, and Ava Lilore-Sciancalepore; nephews Richard Doren, Anthony Doren, and Joseph Lilore; her brother-in-law, Felix Mezzina, and numerous cousins, aunts, uncles, and friends.
Relatives and friends are invited to attend the visitation at Nazare Memorial Home, Inc., 403 Ridge Road, Lyndhurst on Sunday, January 13, 2019 from 2 – 6 PM. All will gather at the funeral home on Monday, January 14 at 10 AM then to Our Lady of Mount Carmel Church, Lyndhurst where at 11 AM a funeral mass will be offered. Interment, Holy Cross Cemetery, North Arlington. All are welcome to attend and celebrate Anna's life.
In lieu of flowers, donation gifts can be made in Anna's memory to the Miss Ann Memorial Scholarship Fund, c/o The Mezzina Family, 181 Copeland Avenue, Lyndhurst, NJ 07071. The family would like to thank VNA Health group of Englewood for their efforts.