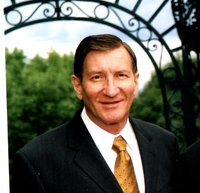 Fred S Rominski
On Saturday, August 24, 2019, Fred Stanley Rominski, loving husband, father of four children, grandfather of eight grandchildren, and especial uncle passed away at the age of 79.
Fred was born on January 16, 1940 in Jersey City, NJ to Floyd and Frieda (Staehle) Rominski and later resided in Lyndhurst and then Nutley, NJ. Beginning his profession as a mechanical engineer at Bell Atlantic and then AT&T after 30 years he retired from Lucent Technologies. On December 9, 1961, he married Evelyn Marie (Vendola) Rominski. They raised 4 children, Daughters Tammy, Janmarie, Samantha and Son Danny (Daniel).
Fred had a passion for his hobby of Model Trains of which he was a foremost expert in. Equally, he enjoyed working on and driving his Ford Mustang, the family car. Fred was a superb craftsman and he could fix anything. While a man of great strength his gentle calm and compassionate spirit generously lent a helping hand to anyone. With his immeasurable patience, he always had a presence of peace and serenity. Fred enjoyed having fun, he was also an avid prankster.
Fred was preceded in death by his parents, Floyd and Frieda, wife Evelyn, his brother Floyd and is survived by his sister Carol, children, grandchildren, nieces and nephews, daughter Tammy Andreacio and her husband John Andreacio, children Jakob and Abigail, daughter Janmarie Dotoli and life partner Peter Dotoli, Children Zoe and Jordan, daughter Samantha Tanguay and Husband Robert Tanguay, children Rhiana and Rhath Tanguay, son, Daniel Fred Rominski and Wife Kim Christian, Children Hawkins and Maxine Rominski
A viewing will be held on Wednesday August 28, 2019 from 7 pm to 9 pm located at Nazare Memorial Home Inc 403 Ridge Rd, Lyndhurst, NJ 07071. All will gather at the funeral home on Thursday, August 29, 2019 at 9:30AM. Funeral Service begins at 10:30AM. Entombment, Holy Cross Mausoleum, North Arlington. IN lieu of flowers, donations may be made in Fred's memory to Toys for Tots at www.toysfortots.org>donate