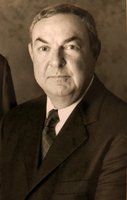 Armand S. Toron
Toron, Armand S., 89, of Rutherford, died on Wednesday, April 8, 2020. Mr. Toron was born in Passaic and raised in Lyndhurst where he lived for 26 years before moving to Rutherford in 1965. Armand attended and graduated from the Lyndhurst Public School System, then went on to Fordham University graduating in 1953 with a Bachelor of Science degree in Political Science. In November of 1953 he married Audrey (nee Moore), a childhood friend since the 4th grade and sweetheart since 1950.
Upon graduation at Fordham he received his Reserve Officer Commission in the United States Army with the rank of 2nd Lieutenant. After serving military duty from January 1954 to December 1956 he left military service as a First Lieutenant and joined the family printing business, Graytor Printing Company, Inc., until his death. Early on in the business he took up flying, a lifelong dream and to better serve Graytor's customers. He became a multi engine pilot with instrument rating and flew his own plane out of Teterboro Airport for 27 years. During his business career he served on committees and boards of trade organizations and was a member of the Board of Directors of Boiling Springs Saving Bank for 33 years.
Armand is predeceased by his beloved wife, Audrey D. Toron (nee Moore) in 1998 and by his sisters, Louise Toron Berutti - Bergotto and Jean Toron Leyh. He is survived by his loving children, Stephen M. Toron and his wife, Patricia and Lisa M. Gebhardt, by his cherished granddaughter, Courtnie Gebhardt, and by his dear sister, Norma Toron Letcher.
Funeral arrangements are private and held under the direction of the Nazare Memorial Home, Inc., 403 Ridge Road, Lyndhurst, New Jersey. Please express your condolences to Armand's family on our Tribute Wall.