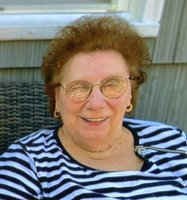 Mildred T. Ardito
Ardito, Mildred "Millie," 83, of Lyndhurst, passed away September 7, 2020, with her family by her side. She was born to the late Angelo and Theresa Pezzano, Feb. 12, in Lyndhurst, NJ. Millie graduated from Lyndhurst High School in 1954.She married the late John Ardito in 1956, and they lived together in West New York for nearly forty years before relocating to her hometown in 1994. Millie is survived by two children: Lori Ardito (Corina Leske) of Brooklyn, NY; and John Ardito (Theresa) of West Windsor. She is also survived by her beloved granddaughter, Andrea Ardito, of Boston, MA, and the rest of her extended, loving family. Millie was predeceased by her husband in 1999.
No one loved spending time with family more than Millie, and she leaves behind nothing but beautiful memories. She dedicated her time to feeding them elaborate Christmas Eve meals, baking hundreds of cookies during the holidays, and honoring every family occasion. Even in her final weeks, as her health precipitously declined, she fought to be present with them.
Relatives and friends are invited to attend the visitation at Nazare Memorial Home, Inc., 403 Ridge Road, Lyndhurst, NJ on Thursday, September 10, 2020 from 10am to 11:15 am then to Mount Carmel Church, Lyndhurst where at 11:30 AM a funeral mass will be offered. Entombment, Holy Cross Chapel Mausoleum, North Arlington. In lieu of flowers, donations may be made in Millie's memory to support dementia research and care or a hospice organization, in lieu of sending flowers. The best tribute to Millie is to support and love those closest to you.