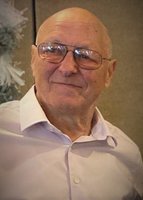 Michael J. Andruchowitz
Androchowitz, Michael J., 78, died on Wednesday, May, 12, 2021. Mr. Androchowitz was born in Newark, lived in Kearny for over 30 years and has been a resident of Lyndhurst these past 5 years. He served in the US Army from 1961-1963 and worked as a facilities manager for the United States Postal Service of Cranford for 18 years before he retired and was a member of the American Legion Post #105, Belleville. Michael is survived by his sons, Frank Androchowitz and his wife, Sharon, Michael Androchowitz. Jr., by his daughter, Andrea Montgomery, his dear granddaughters, Leah and Lexi Androchowitz and by his brothers, Paul and Stanley Androchowitz,
Relatives and friends are invited to attend the visithis held at Nazare Memorial Home Inc. 403 Ridge Road, Lyndhurst on Monday, May 17, 2021 from 4 to 8 PM. Funeral Service begins at 7:30PM. Cremation private. Please express condolences to Michael's family by using our tribute wall.