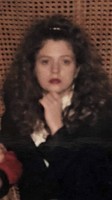 Bernedette I. Bolognese
Bolognese, Bernedette I., 51, died on Thursday, June 3, 2021. Bernedette is survived by her loving children, Lisi Ayres, Evelyn Ayres, and Ny'Anna Jackson, by her beloved parents, Carole Kruse and the late Felix Bolognese, by her dear sisters and brother, Virginia Squillante, Nancy Serfass, and Jarek Hamilton, by her family members, Edward and Ruth Ayres, Patrica Vargas, Kathleen Ayres, Barbara and John Noonan, Isabelle Natiello, Donna Fernandez Deserio, Michael Ayres and the Bolognese family, and by her four special friends, Andre Alston, Kerry Davis Smith, Connie Avila and Denise Paige.
Relatives and friends are invited to attend the memorial mass at St. Mary's Church, Rutherford on Saturday, June 19, 2021 at 1 PM. Cremation was private. Please express your condolences to Bernedette's family by using our Tribute Wall.