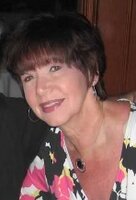 Phylis Linda Intindola
Phylis Linda Intindola (nee Herman) died peacefully at Holy Name Hospital on August 25, 2021, following a short illness. She spent her final time on this Earth, surrounded by the love of her family and the music of Michael Bublè and the Jersey Boys.
Phylis was born and raised in Staten Island, NY on May 12, 1947, to William and Mildred Herman. She married the love of her life in 1972 and moved to Lyndhurst, NJ with her family where she lived for nearly 50 years.
Phylis was a dedicated wife and mother first and foremost, while spending 15 years employed at TJ Sheridan and Co. prior to retiring in 2017. She is survived by her loving husband of 49 years, Alfred, her son, Bryan and daughter-in-law Angela, her daughter, Jeanine, her daughter Kristen and son-in-law, Bill. She treasured her family and embraced every moment with them. She especially loved her role as Nana to her six grandchildren: Alyssa, Victoria, Kaitlyn, Bryan Jr., Olivia, and Sienna. She was the dear sister to Jeannie, Millie, Elinor, Fran and the late Jack, loving aunt to several nieces and nephews, and devoted friend to many.
Relatives and friends are invited to attend the memorial visitation at Nazare Memorial Home, Inc., 403 Ridge Road, Lyndhurst, NJ on Tuesday, August 31, 2021 from 2 - 6 PM. A memorial service will begin at 5:15 PM. Cremation was held privately. In lieu of flowers, please consider a donation to the American Heart Association, 300 5th Avenue, Suite 6, Waltham, MA 02451 or the Leukemia & Lymphoma Society, Donor Services, PO Box 98018, Washington, DC 20090.