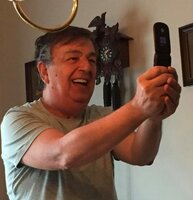 Richard M Rafter
Rafter, Richard M., 73, died on Friday, November 12, 2021. Mr. Rafter was born in Smock, PA and has been a resident of Lyndhurst since 1969. At 20 years old, Richard was drafted and served during the Vietnam War (1967-1969) and was awarded the Purple Heart. Richard, like so many other of his brother vets, was humble and quiet about his time of service to his country. He worked for local accounting firms for his entire life, and in retirement, continued working at H & R Block of Rutherford until 2020.
Richard is survived by his beloved wife of 44 years, Maureen (nee Carroll) Rafter, by his loving daughters, Colleen Rafter and Jaclyn Rafter & her fiancé, Ricardo Gonzalez, by his brothers and sisters, Edward, Frances and Robert Rafter, Emma Florkewicz, Anna "Katie" Gilsdorf (Walter) and Mary "Betty" Bencze, by his brothers-in-law, Mike Carroll (Linda) and Charles Carroll (Barbara), and 3 generations of nieces and nephews.
Relatives and friends are invited to attend the Visitation held at Nazare Memorial Home Inc., 403 Ridge Road, Lyndhurst on Tuesday, November 16, 2021 from 4 to 8 PM. All will gather at the funeral home on Wednesday, November 17, 2021 at 9AM. Then to Sacred Heart Church, Lyndhurst, where at 10AM a funeral mass will be offered. Interment, Holy Cross Cemetery, North Arlington. In lieu of flowers, a donation may be made in Richard's memory to the American Cancer Society @ donate3.cancer.org. Condolences may be expressed to Richard's family by using our tribute wall.