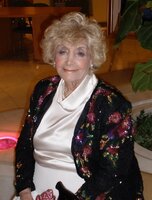 Rosemary L Guidone
Guidone, Rosemary L. (nee Checki), died peacefully at home. Mrs. Guidone was born and raised in Lyndhurst. Rosemary's parents, Antonio and Donata Checki raised all eleven children in Lyndhurst, hence the "Checki" family name became synonymous with the Twp. of Lyndhurst history. These past 30 years, she has lived in the Paramus and Ridgewood area. She was President of the Louis and Harold Price Foundation, a Nonprofit organization, which began in NYC and now is based out in California. Rosemary was predeceased by her beloved husband, Edgar G. "Edge" Guidone in 1989 and by her parents and all of her siblings. She is survived by her devoted son, Denis Guidone. Rosemary is also survived by four generations of nieces and nephews, extended family and friends.
Relatives and friends are invited to attend the visitation held at Nazare Memorial Home Inc., 403 Ridge Road, Lyndhurst on Thursday, June 16, 2022 at 10:30AM - 12:45PM. Then to Sacred Heart Church, where at 1PM, a funeral mass will be offered. Interment, Hillside Cemetery, Lyndhurst. Denis has asked that you join him to continue to honor and remember mom at Roma Restaurant 33 Crystal Street, North Arlington, NJ 07031, immediatly following the interment. In lieu of flowers donations may be made in Rosemary's memory to Alzheimers Association, 400 Morris Ave Suite 251, The repast will follow
Please express condolences to Rosemary's family by using our tribute wall.