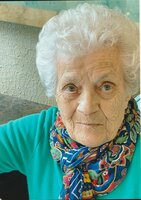 Antonietta Iuliano
With hearts heavy with grief and unimaginable sadness, we, the family of Antonietta Iuliano (nee DiSalvo), announce her passing on January 5, 2023. She is survived by her devoted husband of 64 years, Felice F. Iuliano, as well as their loving children; JoAnn Iuliano-Ontiveros and husband Hector, Corrado Iuliano, Michele Iuliano, and beloved grandchild Eros Marcello Iuliano.
Born in Casale (Molise), Italy, Antonietta immigrated to the United States with her family in 1955, settling first in Jersey City, NJ and then in Dayton, Ohio, where she worked at NCR. In 1958, she returned to Italy to marry Felice, subsequently returning to the US to make her forever home in Lyndhurst, New Jersey in 1970.
A woman of boundless energy, quick wit, and a heart as big as the world, Antonietta was a devoted wife, caring mother, and cherished grandmother. She loved gardening, cooking and baking for her family and friends, who were the center of her world. A hardworking homemaker and employee at YKK Zipper for many years, Antonietta led by example with her unrivaled work ethic.
To say that we will miss her deeply would be an understatement. Antonietta is an irreplaceable presence in our lives, and her absence leaves a hole that can never be filled. However the silver lining is, we are certain that heaven has never had better food.
We invite family and friends to join us in honoring Antonietta's life at Nazare Memorial Home, 403 Ridge Road, Lyndhurst, NJ on Sunday, January 8, 2023 from 1-5pm. On Monday, January 9, we will gather at the funeral home at 9:00am. A mass will follow at 10am at St. Michael the Archangel Church, 624 Ridge Road in Lyndhurst, NJ. Entombment at Holy Cross Chapel Mausoleum, North Arlington, NJ.