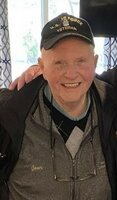 Jean Carl Koegler, III
Koegler III, Jean C. 83, of Weehawken, died on Wednesday, May 10, 2023. Jean was born and raised in Union City and has lived in Weehawken for the past 62 years. He was a member of the United States Air Force from 1958-1961. Jean was the owner of Von Schrader Cleaning Services of Weehawken for 48 years. He was a diehard fan of the NY Giants and lover of big band jazz music, especially, Buddy Rich. He is predeceased by his beloved wife of 54 years, Margaret (nee Freesemann) Koegler in 2016 and is survived by his loving son, Jean C. Koegler, V, by his dear grandchildren, Breanna Jean Koegler, Andrea and Andrew DeRonde. Also survived by his nephews, Charles, Jean and Alfred Koegler. Jean was a strong, hard working man, proud of his family and his business, always present on the jobsite, working alongside his son.
Relatives and friends are invited to attend the visitation held at Nazare Memorial Home, Inc., 403 Ridge Road, Lyndhurst on Tuesday from 6 - 8 PM. Funeral Service begins at 8PM. Private cremation to follow. In lieu of flowers, donations may be made to Wounded Warriors Project by clicking here.